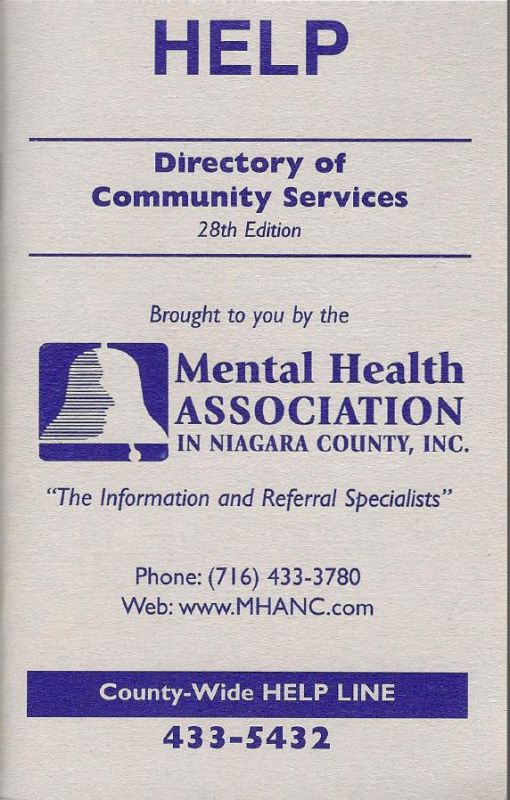 What is Information and Referral?
Access to the most up-to-date information provides relief. Through the Mental Health Association in Niagara County and the Niagara County Department of Mental Health, you can find out about valuable service agencies and how to connect to them. Information is categorized so you can easily find services related children, counseling, education, employment, food pantrys, health, housing, legal issues, senior citizens, support groups, transportation, and veterans. You can access this information any time of the day or night, whether you want to call, go online, browse the Help Book, or stop by our office.
Help Line: Our phone referral system, known as the Help Line, is staffed 24/7 so there is always someone standing by to help you with the information in our many directories. One Help Line number serves all of Niagara County: 716-433-5432.

Help Book: For just fifty cents, you can have a pocket-sized print copy of our popular Help Book which provides quick reference for important phone numbers in Niagara County. Now in the 28th edition, you can stop by or call to get a copy. You can also download a PDF of the Help Book by visiting publications. For the online version click here!

In Person: Our office on 36 Pine Street in Lockport, NY, is open Monday through Friday, 8:30 a.m. to 4:00 p.m.

On-Line: Visit our online Helpbook or browse our website for valuable links and resources. You can also download a pdf of the Help Book, or check out a list of useful sites related to mental health at the Self-Help tab.
Additional resources: The Lockport Family Resource Guide and Niagara Self-Help Clearinghouse are directories which provide a central collection of all self-help mutual-aid support groups in the Niagara County and Lockport Community. To download a copy, see the links below.